Featured as Top Burger Joint in Reno!
https://thisisreno.com/2021/08/its-getting-hot-in-here-sizl-burger-brings-the-heat-to-sparks/
Business name: SIZL Burger Sparks
Business owner name: Robert Carrier
Business Full Address: 1180 Scheels Drive Ste B-108, Sparks, NV 89434
Business Phone: (775) 420-5433
Business Website: https://www.sizlburger.com/
Main Category: Restaurant
Burger Restaurant Sparks Nv, Hamburgers Sparks Nv, Burger Restaurant Reno.
Business short description: Best hamburgers in Sparks Nevada, SIZL Burger has some of the Reno areas best gourmet hamburgers. Foodies in Sparks, NV, who are looking for more than assembly-line burgers drying out under heat lamps are in for a real treat. Popular burger joint Burger IM is rebranding with a new look and a scrumptious gourmet menu. This family-owned business is a highlight for locals and visitors alike.
Social pages:
https://www.facebook.com/SIZLburger/
https://thisisreno.com/2021/08/its-getting-hot-in-here-sizl-burger-brings-the-heat-to-sparks/
Working hours:
Friday 11AM–9PM
Saturday 11AM–9PM
Sunday 11AM–7PM
Monday 11AM–9PM
Tuesday Closed
Wednesday 11AM–9PM
Thursday 11AM–9PM
Business mail: info@sizlburger.com
Payment Option etc: All major credit cards, cash, Apple Pay, Google Pay, PayPal.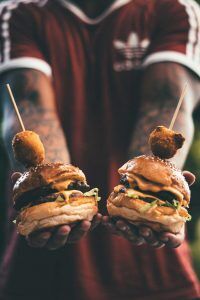 Best Hamburgers in Sparks Nv
SIZL Burgers located in Sparks, is on fire! Nominated as one of the best burger joins in the Reno/ Sparks area.
Drive-thru burgers get tiresome real fast. They all seem to taste the same, and many are less than filling. We flock to them for their low price and convenience, but our tastebuds long for something more exciting. If you haven't treated yourself to a gourmet burger before then, you're in for something special. Here are all the things that make gourmet burgers the best.
The Meat
Hamburger-mills churn out so many burgers a day they are forced to buy in bulk at the lowest cost possible, sacrificing quality. Gourmet burger chefs know that the quality of the meat makes the burger. You get what you pay for, my friends.
Patty Flavoring
Throwing raw meat on a grill won't cut it for gourmet flavoring. You need to season your meat! In fact, having a custom spice blend will not only make great-tasting burgers but can become part of your signature taste.
Cooked To Order
Not making hundred of burgers in advance allows you to custom build fresh burgers. Fast food burgers are premade and sit under heat lamps while their flavor deteriorates. This also means you can get burgers at the temperature each individual wants. Most general burger chains only do well done. Do you like a medium-rare burger? You can have it with gourmet!
Better Buns
Leveled-up burgers require leveled-up buns. This could be handmade buns or simply buns of higher quality.
Fresh Toppings
Farm fresh toppings are a must for gourmet burgers. You won't find wilded shredded lettuce on our burgers. Ripe tomatoes, crisp greens, and delectable sauces.
Unique Flavor Combinations
At most burger joins you have your choice of a hamburger or cheeseburger, maybe bacon if you're lucky. However, a true burger chef will come up with amazing flavor combinations you've never even heard of. Their menu will keep you coming back for more.
When they launch, here are some of the must-try SIZL menu items.
These are the menu items that will launch our new brand, try them all and see which are your favorites.
Angus Beef – Your standard burger but upgraded to satisfy the pickiest foodies. It's a ⅓ pound patty with house sauce, fresh lettuce, ripe roma tomates, pickles, shaved onions and lots of American cheese.
The Cowboy – Same delicious patty but add BBQ sauce, an freshly fried onion ring, thick bacon and cheddar cheese.
Spanish Beef – In the mood for something spicy? The Spanish beef burger is loaded with habanero aioli, grilled jalapenos, crisp lettuce, and pepper jack cheese.
Smash Burger – Two smashed angus patties dripping with American cheese, add your own toppings.
Greek Lamb – A ⅓ pound lamb patty with tzatziki, mixed greens, shaved onions and roma tomato.
Grilled Chicken – A grilled chicken breast with zesty chipotle sauce, buttery avocado, tomato and swiss cheese.
These are just a sample of the amazing burgers you will find on our menu!
Looking to experience new flavors? We have options.
Don't limit yourself to beef burgers where there is a whole world of fresh patties to choose from. All our burgers can be made with the following substitute patties:
Lamb
Grill chicken
Turkey
Crispy chicken
Impossible Burger (Plant Based Option)
Falafel
Pile On The Extras And Create Your Own
The best part about gourmet burgers is that they are made to order, so you can go wild and create your own flavor combinations. All burgers can have your choice of lettuce, tomate, shaved onion, pickles, American cheese, and house house. Here are the yummy premium ingredients you can play with:
Bacon
Avocado
Fried Egg
Jalapenos
Onion Ring
Pepper Jack Cheese
Swiss Cheese
Cheddar Cheese
Sauteed Onions
Sauteed Mushrooms
More Exciting Menu Items For You To Enjoy
We also have a selection of kids meals, chicken fingers, and chicken wings for people that aren't in the burger mood. Now the whole family can agree on one restaurant. Top off your meal with a thick cold milkshake.
Located in The Outlets at Legends Mall in Sparks, Nevada, across from Galaxy Theatres Legends IMAX, Sparks. Wait until you see our new digs!